It's time for an FO (finished object, for all you non-knitters who read this site)!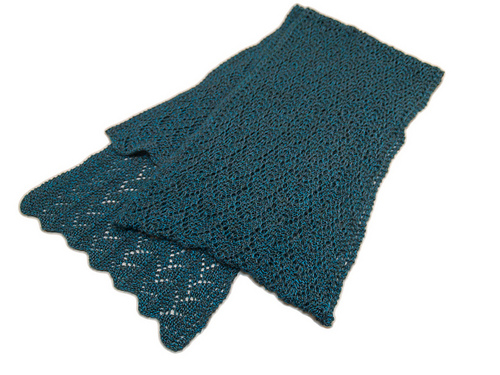 I started this scarf A FULL YEAR AGO, when I was off work recovering from my surgery. It's knitted with the South West Trading Company Pure soy silk yarn, which is luxuriously soft and plied in three lovely colours to make a beautiful colour way. However, the yarn is rather "sticky" to work with. I had to maintain a very loose tension to keep things moving on the needles, which was tiresome and often quite frustrating.
The pattern is taken from a book called Arctic Lace by by Donna Druchunas, specifically a pattern for a mobius scarf, but I never really intended to sew it up as a mobius.
I had four skeins of this yarn, and while the scarf turned out beautiful (don't look too close, it's chalk full of mistakes) and I will for sure love wearing it, I will likely not buy this yarn again.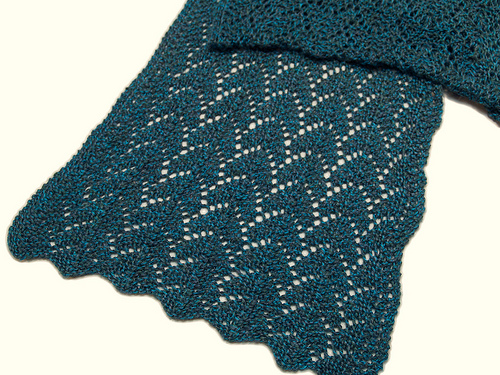 This was my largest lace project to date, and part of the reason it took me so long to work on was because I approached the lace chart entirely the wrong way. The lace pattern was actually much simpler than I had let myself believe. It's worked over eight rows, and essentially repeats three times across. But I kept reading the full length of the chart as I worked each row, and doing so made it impossible for me to realize that the pattern was actually relatively simple and easy to memorize. It wasn't until I was on the fourth skein that I really didn't need the chart anymore. The sad thing too, is that the chart actually mapped the repeat out for me, even though it was printed in to represent the full width of the scarf. Sheesh. How dense can I get?
Anyway, it is done. And I think I now have significantly improved lace knitting skills. It's perhaps a bit longer than it should be but I wanted to use up the yarn. And now I have a lovely scarf to wear this fall. It should beautifully complement the fall colours, no?