I think it was back in the fall when I mentioned I was going to take on my irrational fear of pie pastry head on and kick butt. I am proud to say I have mastered this fine form of dessert, and here is the proof: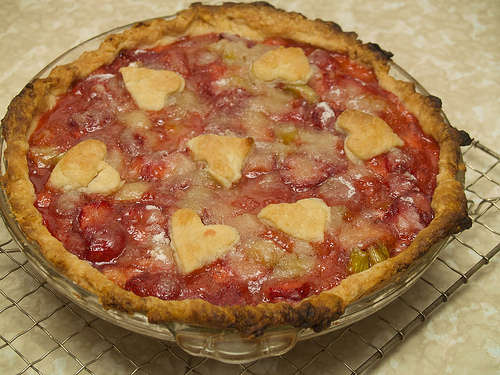 Yes, there is only one photo. Because it disappeared. Fast. That night. I took this over to my friend Adria's house as my contribution to dinner and it was just gone. We could not get enough. The pastry was perfectly flaky, the filling was the perfect combination of sweet, gooey goodness.
I made this using berries I had picked up from my hometown of Mitchell ($2.50 a quart for fresh Ontario strawberries! They go for $4.50 a quart in Toronto), and rhubarb I had in the freezer, courtesy of Chris's mom. Rhubarb has a tendency to go a bit fibrous and loose its texture in the freezer so I decided to thaw it in some water to help revive it. I drained it well, mixed with the berries and voila. Humble pie. My very own. It's like a whole new world of desserts!
Strawberry Rhubarb Pie
Pie Pastry (adapted from Smitten Kitchen's Flaky Blood Orange Tart recipe; enough for a single crust pie)
1 cup all-purpose flour
2 tbsp sugar
1/4 tsp baking powder
1/4 tsp salt
1 stick cold butter
3 to 5 tbsp ice water
Strawberry Rhubarb Pie Filling (adapted from A Guide to Good Cooking by Five Roses Flour)
3 to 3.5 cups total of strawberries and diced rhubarb
3/4 to 1 cup of sugar, depending on your preference and sweetness of the berries
1/4 cup all-purpose flour
1/8 tsp salt
pinch of cinnamon
1 tbsp butter
Sift together flour, sugar, baking powder and salt in a large bowl.
Working quickly to keep butter cold, dice into cubes and add to flour mixture. Using a pastry blending tool, cut the mixture together until there are roughly pea-sized pieces. The mixture will not be uniform, and the idea here is to still have good sized pieces of butter – these will help keep the crust flaky.
Adding one tbsp at a time, being adding the ice water and mixing the mixture gradually. Add only enough water to help hold the dough together.
Press into a ball, wrap in wax paper and refrigerate for about 30 minutes. Alternatively you can put it in the freezer for about 10 to 15 minutes.
Preheat oven to 400 degrees F.
Prepare berries and rhubarb. In a small bowl combine sugar, flour, salt and cinnamon. Reserve butter for dotting.
Take pie pastry out of the fridge and roll it out to about 12 inches on a floured surface. Place into pie plate, trim and flute edges. Scraps can be rolled out and cut into cookie cutter shapes for decoration (don't over work the dough or it will not be flaky).
Pile berries into pastry shell, leaving them higher in the centre. Sprinkle sugar and flour mixture over the berries. Dot with butter.
Bake 40 to 5o minutes until crust is golden brown.
Note: This crust also works very well as a savoury crust if you omit the sugar. You can add herbs to it and if you bake it empty first, it works well as a lovely quiche shell.
Tip: You may want to bake this with a baking sheet on a shelf below the pie to catch any spills that might bubble over. Cleaning up baked on pie overflow is NOT fun.