I'm working my way through about 6Gs of photos from our trip to Portland and Seattle. Looking at them helps me forget about the travel woes and think back on what I really loved about both cities.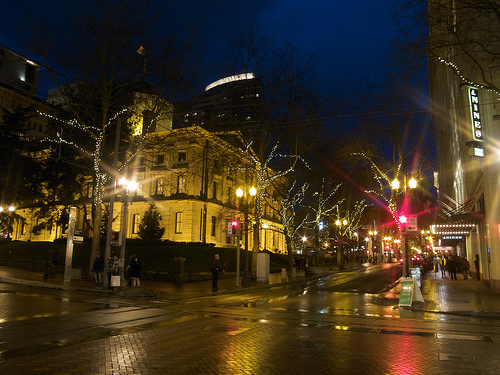 Favourites:
McMenamin's Kennedy School: a historic, converted elementary school that opened in 1915 and held classes until 1975. The McMenamin's brewery chain presented a proposal to convert the school, preventing its demolition, and began renovating it in 1997. Definitely one of the coolest places to stay, with several different bars, a brewery, restaurants, a pool and even a theatre built in. The place has the most fabulously funky artwork throughout its halls, and many of the rooms are dedicated to the schools most notable teachers of the past. While it's not in the city's core, it's only about a 15 minute walk from Alberta Street, one of the city's best funkiest 'hoods.
Ace Hotel / Clyde Common: we didn't see a lot of the hotel but we had lunch at Clyde Common, downtown. This is definitely where the hipsters hang out. The lunch menu was fabulous, fresh and healthy, and affordable. But what really warmed me up was the Meyer Lemon Buttermilk Pudding with Huckleberry Sorbet and Pistachios. The pudding was warm and soft like custard on top, but crispy like freshly baked cake on the bottom. YUM!
Super Friendly Warm People: whatever your attitudes might be towards Americans, the people of Portland were incredibly friendly and warm. Maybe its that mild climate but I suspect its the awesome availability of excellent craft beer. Even the homeless people were happy and friendly!
Awesome bike-friendliness: what Toronto could use a lot more of.
Por Que No? taqueria: if I could have eaten here daily I would have. You can order tacos one-by-one and make your own combo. I had the Carnitas and the Porque Tinga as well, but the Pollo Asado was the best. Be warned though, they kind of close early, or at least they did when we were there.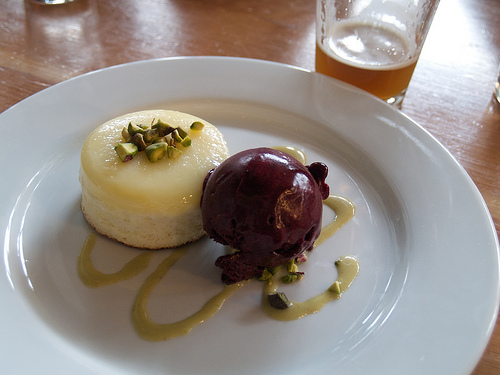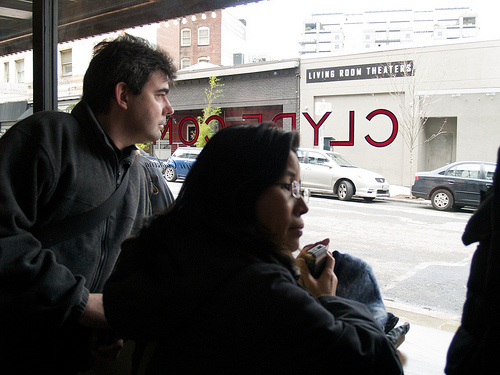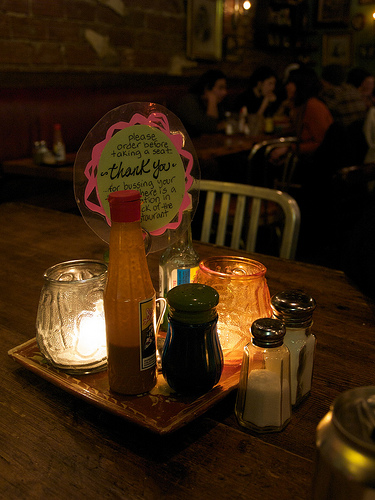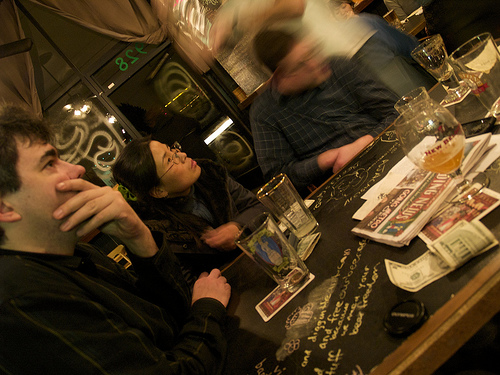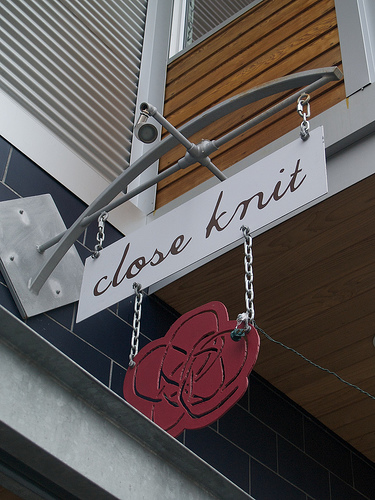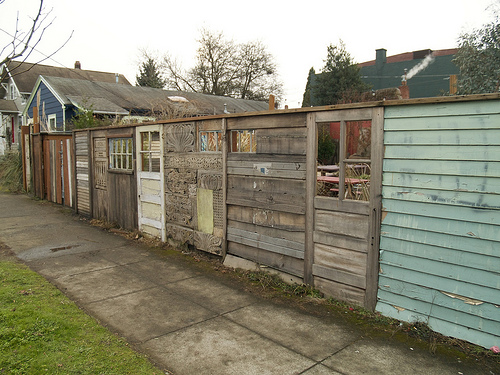 The trees: okay so I'm a bit sheltered and haven't travelled a lot and this was my first time to the Northwest. But the trees. They are so beautiful and majestic! In Portland especially, everything was so lush and green, even at the end of December. There is green moss and drippy sage-coloured moss on everything – many of the trees look half decayed. Many of them have ferns growing up in them. There is a poster I saw in a closed shop window that I want to get my hands on, which charts out the different conifers of the Northwest, I'm going to have to try to find it.
Powell's Books and Powell's Technical Books: a ginormous new and used independent book store, Powell's is legendary. I thought I wouldn't find the Technical Books store of interest but I found some cool vintage farm equipment stuff for my Dad, and some great books on preserving food, country-wisdom and know-how, living off the land, building a chicken coop (I so want to have chickens), building a horse barn, and more. My luggage was full of books!
Dog-friendliness: Portland loves its dogs. Everyone seems to have one, and everywhere welcomes them. Hotel Monaco Portland's Manager of Operations is Art, a yellow-lab!
A complete lack of sales tax: imagine that. It costs what it says it costs. How novel!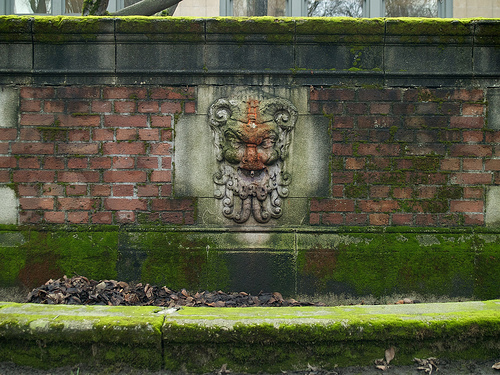 Not-so-favourites:
So for the tourist, the city is a bit spread out. There are many neighbourhoods where different attractions are and the city has very few cabs. We used transit when we could figure it out, which helped. I guess this is a byproduct of the fact that they're so bike-friendly there. I'm sure its great when you get the hang of it but we only had three days there. I think a lot of people stay in the downtown core, which is nice, but there are gems all over, so its worth the effort to get out of the core.
Industrial architecture: because we were able to see a fair bit of the city, it was a bit disappointing to see how industrial the city appears to be, all over the place. I guess the city isn't so notable for its architecture.
Rain: obviously this is why it's so lush there so I can't fault it too much, and some would argue its better than snow, but the rain kind of put a damper on a lot of my photography.
Missed attractions: I really wanted to see the Japanese Gardens but they were closed due to ice and snow. Also, a lot of the other museums and places I wanted to see were closed for the holidays. I guess that's what you get when you visit over the holidays.
Poor planning for New Year's: I blame myself for this as much as anyone else, but we didn't really have our act together for New Year's Eve. Everywhere we went had a two hour wait or was sold out. We ended up ringing in the new year at a small bar called East Burn, where everyone was really nice but it was obviously a neighborhoody place, and everyone there knew each other. It felt like we were a few years older than the crowd there, and I felt like a bit of an outsider, but champagne was provided and the music was fun so that helped. And I can't fault the folks there, everyone was so friendly it was almost shocking (I do live in Toronto after all, where they say we're not a friendly city).
To see my Portland photos, visit my set on Flickr. Cannon Beach and Seattle photos to come!