I'm slowly building an army of baby vikings. The Baby Viking Helmet I made for Super Cal's first birthday was such a hit I've had a few requests (from the pattern Viking Hat by Becky Veverka). This one, which I created using Mission Falls 1824 wool (in #008 Earth, #015 Putty, #013 Curry and #002 Stone), is for my coworker's godson, and it was an opportunity for me to perfect my horn alterations, and I think I have them down now. Writing out what I did was terribly painful and tells me I'm probably not destined to become a designer of things knitted. If anyone tries this out and runs into trouble or something in the pattern doesn't jive, please tell me so I can fix it (both here, and on my Ravelry page). I also need a better hat model (i.e. less lumpy) for photography!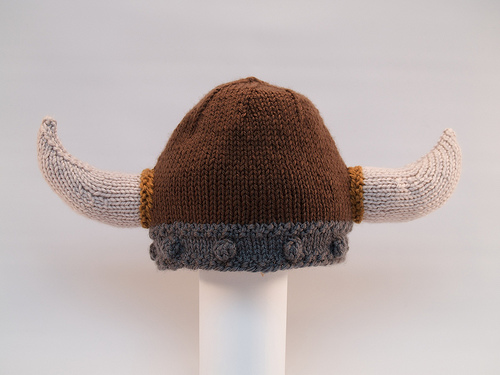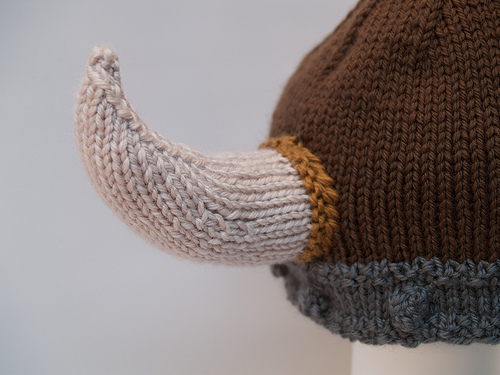 Follow hat making instructions in the original pattern by Becky Veverka (I leave out the earflaps as well).
Directions for my version of the horns (make 2):
With gold coloured yarn, CO 24 stitches (using long-tail cast on)
Row 1: knit
Row 2: switch to cream coloured yarn; knit
Row 3 to 11: stockinette stitch
Row 12: K18, turn, switch yarn to back, slip stitch from right needle on to left, bring yarn to front, slip stitch back to right needle, P12, turn, bring yarn to front, slip 1 st from right needle to left needle, wrap yarn by bringing to the back, slip stitch back to right needle and knit to end of row.
Row 13: Purl
Repeat rows 12 and 13 twice more.
Row 18: K1, SSK, knit to last three stitches, K2tog, K1
Row 19: Purl
Continue decreasing in this way until your last 4 stitches. Draw last four stitches together using needle & thread. Sew up the seam using mattress stitch, drawing it up nice and tight to help shape the horn. Stuff the horns and sew onto hat with gold coloured yarn.