Yesterday was a good friend's 30th and while I wasn't coordinating the surprize party, I was asked if I would make a dessert. The only thing I was told was that the guest of honour's favourite flavour is lychee. So I did a little hunting around and decided to make a traditional baked cheesecake with a lychee sauce. Sounds a bit weird but let me tell you, it was divine.
So I call it a baked cheesecake. This might seem obvious, but I have had a lot of "fake" cheesecake in my lifetime, at various potlucks and so on. I think people like to make them because they're a little lighter than the baked kind, probably because they're often made with Cool Whip (ewwww! Edible Oil Product? YUCK). They're all soft and they kind of disintegrate when they're served. Call me a stickler but I'm all about the rich, deeply flavoured, silkily textured baked cheesecake.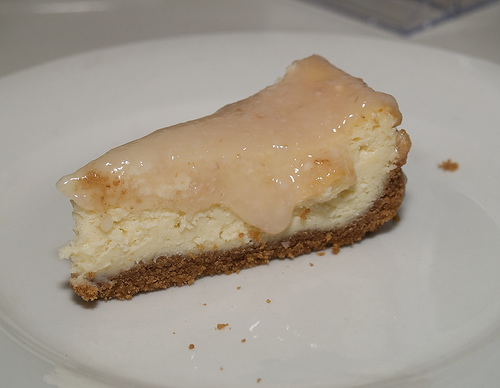 Not the sexiest photo but I couldn't really grab a good shot before the actual party — the cake was served at the resto we were at, but I would have garnished it with some fresh mint and maybe some raspberries or something to give it a bit of colour.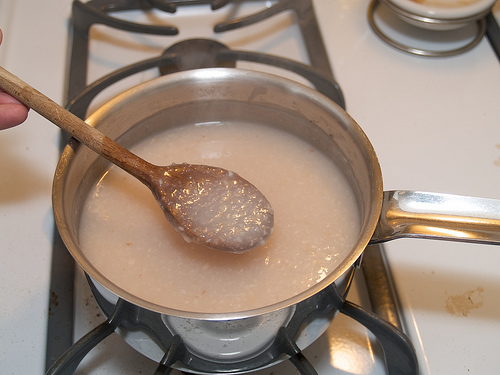 Cheesecake with Lychee Sauce
Crust:
1 1/3 cup of graham cracker crumbs
1/3 cup of brown sugar
1 tsp cinnamon
1/2 cup melted butter
Filling:
2 – 8 oz. packages of cream cheese, at room temperature
1/2 cup of granulated sugar
3 eggs
1/4 tsp salt
1/2 tsp vanilla
1/2 tsp grated lemon zest
Topping:
1 can lychees in syrup, drained, syrup reserved
1/2 the can of syrup
juice of one lemon
4 tbsp corn starch
2 tbsp granulated sugar
fresh mint and berries (optional), for garnish
Crust: combine all crust ingredients in a food processor and pulse until well-combined, until mixture holds its shape when pressed with finger or spatula.
Press into the bottom of an 8″ spring form pan. Taper the edges up the sides.
Filling: beat the cream cheese at high speed until lighter in texture, then add the sugar, eggs, salt, vanilla and lemon zest. Beat until well-combined, scraping down bowl frequently to ensure there are no lumps.
Pour onto the crust and gently push the filling towards the edges to cover up the crust. Gently spin the pan and tap on the counter top to level the batter and to force out any air bubbles.
Bake in 325 degree F oven for 1 hr and 15 mins, or until cake is slightly golden at edges and fully set. Test with toothpick to ensure it comes out clean.
Topping: While the cake is baking, puree the lychees and combine with the lemon juice, sugar and most of the syrup in a saucepan, saving some syrup to combine in a separate bowl with the corn starch. Place the saucepan over medium-high heat.
Add the syrup-cornstarch mixture to the puree and heat until the sauce thickens to the consistency of thick gravy. Allow to cool minimum one hour before serving.
Cake can serve small slices to upwards of 20 people, but if you want seconds, you might want to make two!
Note: if you want your sauce to look a bit more colourful, you could add a drop of red food colouring to make it a stronger pink. Alternatively, you could make a sauce combining lychees with other, colourful fruit. Finally, you can of course, make any kind of fruit (or chocolate, or caramel) sauce to go with the plain cheesecake base.