Well if today is any indication, winter is practically upon us (what the hey?? SNOW??). But I have a couple more canning tricks up my sleeve.
A few years ago I made a white wine and herb jelly which is really lovely for using as a glaze on roasted meats, or to serve with a cheese platter. I have an abundance of herbs this year and with frost around the corner, I wanted to do something different with them.
I couldn't find the original recipe I used so long ago so I've modified one from the Bernardin Home Guide to Preserving, a book I've found incredibly useful and informative when it comes to canning. I highly recommend it (its like $8, and available in lots of places and online).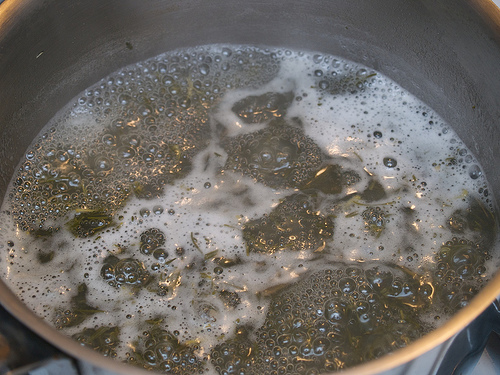 White Wine & Herb Jelly
(adapted from the recipe for Herb Jelly in the Bernardin Guide to Home Preserving)
1 large bunch of your favourite herbs (I used lemon thyme, regular thyme and rosemary); leaves removed from stem if you plan to leave the herbs in the jelly as I did – or leave on the stem if you intend to strain the herbs from the finished jelly
3 3/4 cups of white wine
1 package of Bernardin No Sugar Needed Pectin
Wash the herbs and spin dry to remove access moisture. Combine herbs with wine in a stainless steel pot and steep for about 20 to 30 minutes to infuse the wine with the herb flavours. If you prefer a clear jelly, use a sieve to strain the herbs from the liquid (I left mine in because I think they look pretty). Measure 3 1/2 cups of liquid (and herbs if keeping them in) back into the pot and whisk in the pectin. Return to a full, rolling boil, and boil for one minute.
Ladle into hot, sterilized jars, leaving about 1 cm of space from the rim. Using a non-metal utensil remove any air bubbles. If necessary, wipe the rims to remove any spillage and to ensure a clean seal. Centre snap lids on jar and place the band on the jar, lightly. Process jars in a boiling water canner and boil for 10 minutes. Remove jars from the water and allow to cool. Any jars that don't "pop" down are not vacuum sealed (don't worry, it happens), and should be frozen or refrigerated and used soon.
Makes approximately 3 x 250 ml jars, or 6 x 125 ml jars.
Note: Never try to double a jelly recipe. I actually did make a double batch, but I boiled the liquid in two batches each with one package of pectin. I don't know why but jelly can be finicky and you can risk having a whole batch not set properly if you mess around. I ended up with a whole batch of Elderberry syrup last year that was supposed to be jelly!