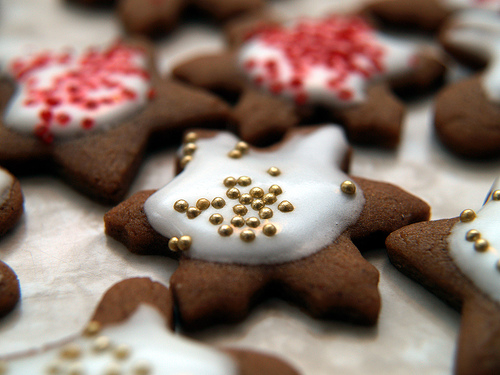 It's that time of year. After a year of doing very little in the crafty department, I've been cranking it out the last couple of weeks. I've finished several pillows, quilted and otherwise, along with a few small knitted gifts. Of course I don't want to post any of this until after the holidays or I might spoil the surprise!
Over the remaining week and a half I plan to make and smoke some sausage. I've made sausage before but will be smoking it for the first time, which is a bit of a time-challenger as there are several steps involved that need to be done over a couple of days, so planning when to do all this hasn't been easy. And I also need to make cookies!
One of my stand bye recipes for the holidays has been a very straightforward gingerbread or gingersnap cookie that I adore. The only sweetener used is molasses, and they have a super spicy ginger punch. They store very well and are just as good after a couple weeks as they are fresh out of the oven, and, they are perfect for decorating. Frankly, you could make and enjoy these any time of year, but I usually make them just for Christmas.
Gingerbread (or Ginger Snap) Cookies
Based on the recipe from A Guide to Good Cooking by Five Roses Flour
Yield: about 5 dozen 2 inch cookies

For cookies:
1/2 cup butter
2/3 cup fancy (not blackstrap) molasses
2 cups all-purpose flour
1 tsp salt
1/2 tsp baking soda
2 tsp ground ginger
1 tsp cinnamon
For frosting (makes 3 cups; dries hard):
3 egg whites
2 1/2 cups sifted icing sugar
1/2 tsp cream of tartar
Directions:
Cream butter. Heat molasses to boiling; cool slightly and pour over butter, mixing well.
Stir dry ingredients together; mix into first mixture. Wrap dough in waxed paper and chill 1 hour or more (I sometimes find it helpful to divide dough and flatten into a couple of discs; this makes it easier to chill and easier to roll out once it is chilled).
Roll out dough to 1/4″ thick on lightly floured surface. Cut with cookie cutters. Recombine dough scraps and cut into shapes until dough is used up.
Bake on parchment-lined cookie sheet at 375 ℉ for 5 to 7 minutes or until delicately browned (crispness of cookie will depend on how thin dough is rolled and how evenly the cookies are baked). Cool completely before decorating, if desired. Best results come from baking one cookie sheet at a time, rather than putting two sheets in the oven at once. If you're rushed and need to bake two at a time, quickly rotate the cookie sheets halfway through baking time — not just on the levels of the oven, but also turn the pans around, to ensure they bake evenly.
For Frosting: In a large bowl combine egg whites and 1/2 cup of the icing sugar. Beat vigorously for 10 minutes; add another 1/2 cup of icing sugar and beat again. Add cream of tartar. Continue adding icing sugar and beating until mixture will hold its shape when forced through a bag or tube. Colour with food colour drops (icing thickness  may need to be adjusted due to added liquid) or food colour paste, and decorate cookies with piping bags and tips. Leave out to dry for several hours or overnight.