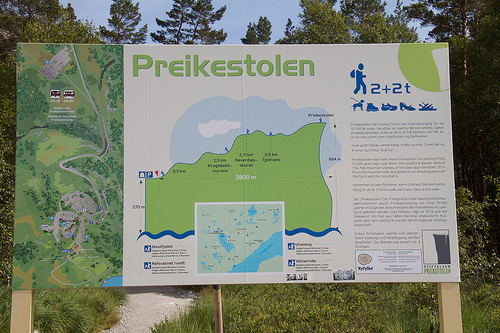 My last post on Norway, I swear! But this one is perhaps full of the most spectacular scenery of all. It was also probably one of my most frustrated times on our trip.
If you've ever seen any marketing literature, videos or books about Norway, this site is featured prominently. It's a jaw dropping cliff that overhangs the Lysefjord in southwestern Norway, and its a nearly 4 km (2.4 mile) hike up that rises (and falls, and rises again) about 330 metres (1082 feet) along the route. The rock face itself is 604 metres (1981 feet) above sea level.
Everyone has to go up and down along the same route, and no one monitors how many people are on the trail. And most of the time that's probably not a problem, but we were there in the height of tourist season, during some of the nicest weather the region had had in a while. As a result, we hiked the trail with at least several hundred others, of all ages and abilities. My friend Guro said that it had made the local news even, how busy it was that day. She also said that the last time she hiked it, with her 80-something year old grandmother, they passed maybe a total of 20 people.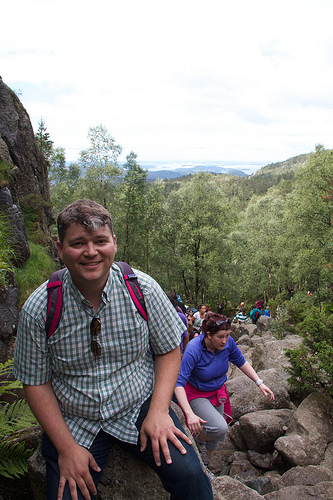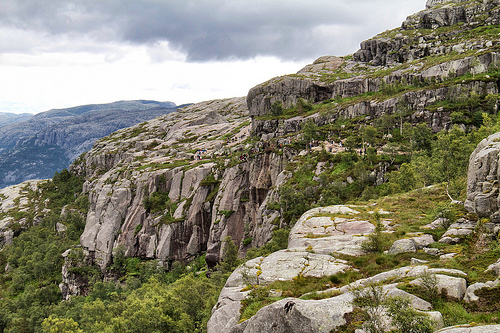 It was one of those hikes where you just keep thinking, are we there yet? Every mountain you came around you expected to finally be there, but no, there was still another several hundred yard scramble to go. My parents, who had traveled to Norway the year before, had been disappointed that they didn't do this hike, but Guro had figured it was too difficult for my Dad, and she was probably right. There were places on the trail that were just brutal for traffic, where you felt like you were being pressured on by the sheer number of people waiting behind you. That started to really get to me after a while. I shouldn't have let it bother me but I hate being hemmed in by [annoying, pushy, rude] crowds of people, especially when they're infringing on my enjoyment of a place or an experience. Here I was climbing mountains in Norway for goodness sake! I didn't want to be rushed along!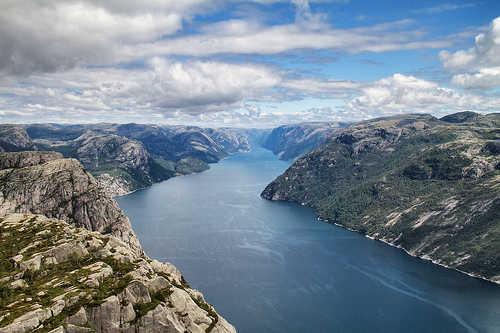 That said, there were breaks in the madness, where there was room to spread out, take a breather and enjoy where we were. I say that in hindsight of course.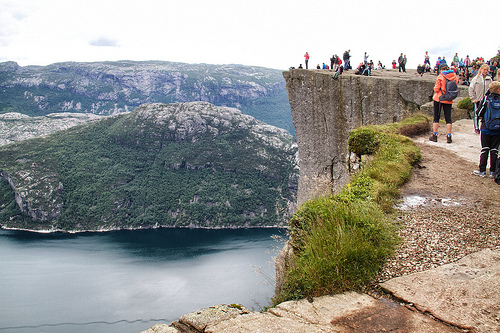 And then suddenly, we were there. And it was nutbar. People e-v-e-r-y-w-h-e-r-e!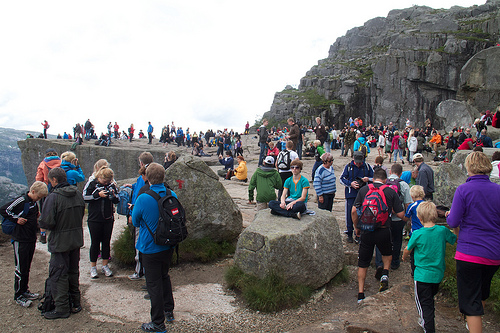 Call it exhaustion, but I was at the end of my rope by the time we got to the cliff itself, and looking back I kinda wish I could give myself a good cuff, because I was being a bit of a bitch, and letting my frustrations take over, rather than really truly absorbing the awesomeness of it. And then, the last straw, I stood up after eating my lunch and my iPhone dropped onto the rocks, causing the screen to crack. I'll admit it… I shed a tear or two. I know, stupid, but I was hungry and tired and more than a little fed up. It didn't take much to push me over the edge (the emotional edge!).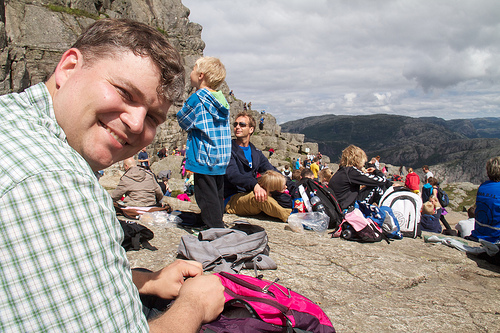 As a result of my self-indulgent temper tantrum, I didn't really get the group shots I should have. In fact, I realized in hindsight that overall, I didn't really get more than a couple shots of me with Guro and the kids, which I realized too late. But I did take a bunch of shots while I tried to gather myself, and I definitely got some good ones. And Chris was a brave soul and scrambled up the cliff behind Preikestolen and got some excellent wide shots that show the insanity of the cliff. Good job hubby!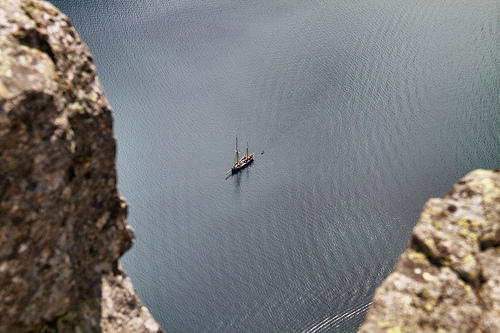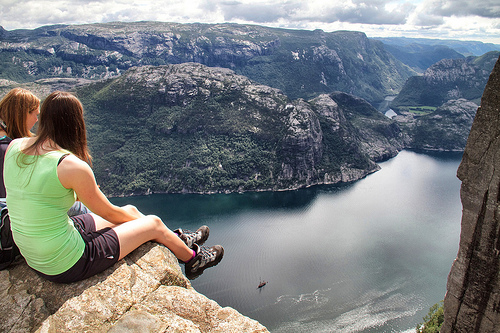 I was not brave enough to sit with my legs dangling over (nor was there really any room with all the people there) or to lay down and lean over the edge like others were doing.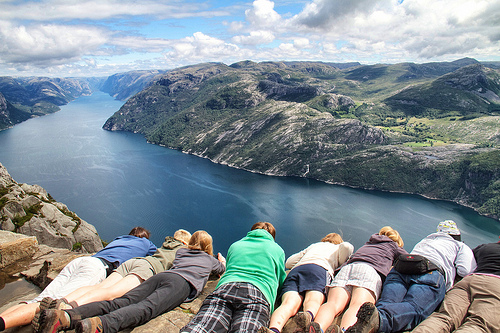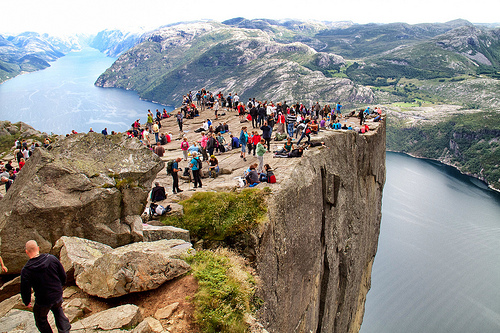 Guro was definitely a little apprehensive about taking her mountain-goat-children on this hike (I'm referring to an earlier post, wherein I described her daughter's penchant for tip-toeing along every cliff edge she can find). Each of them, her and Preben, assigned themselves to a kid (Guro to Kyrre, Preben to Helene) as a way to keep tabs on them. While on the cliff itself I saw one mother walking around who had actually tied ropes around her tween-aged children, and then to herself. I can see why parents would be concerned. There was only one place on the entire trail where railings of some kind were installed, but there are no barriers on Preikenstolen itself. Thankfully the hike up subdued the kids' energy somewhat, and they did really well. I didn't quite get the shot but Guro was gripping Kyrre's backpack super tight in this pose below.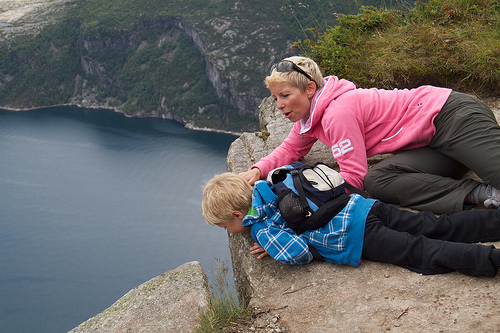 And if the earlier photos weren't enough to convince you of the hoards of people on the trail with us, check out the traffic jam below, at a narrowing of the trail, on the way down. This was actually where one of my favourite moments of the hike occurred. The reason traffic was so backed up was that the trail at this point forced you to either inch along a ledge barely as wide as your foot to circumvent a rock face, or, you could scramble down a not insignificant drop and then heave yourself back up a nearly sheer mountain side that was almost as tall as me. And this option wasn't super apparent if you weren't looking for an alternative to the narrow ledge. People kept waiting to go across the ledge rather than scramble down. When the queue finally brought me to the decision point, a very elderly Norwegian lady was trying to negotiate the narrow ledge, looking uncertain and afraid, and everyone was just waiting for her impatiently. So I lent her my hand and pulled her up and over towards me, before I took my turn to scramble down and around (not across the ledge). She was so sweet and appreciative. And suddenly I felt like my faith in people was restored. Good deeds have that kind of power.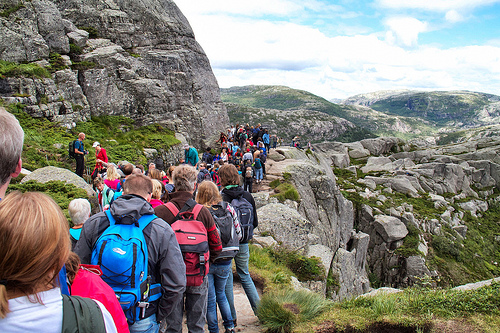 And there you have it. Our trip to Norway. Thanks for your patience as I went on and on over the later half of this summer, summarizing up our nearly three weeks in the country. I appreciated that you dropped by to check it out!
I'll be back with more knitting, quilting, gardening and canning content soon! In the meantime, check out a slideshow of my photos from Preikestolen on Flickr.