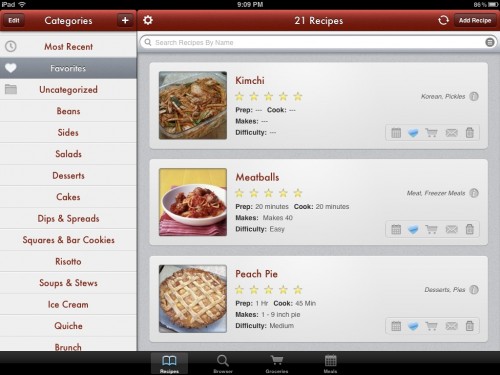 There are no shortages out there of recipe apps, especially customized ones for a specific brand. I've tried a few of them, but my favourite is called Paprika.
Paprika is available for the iPhone, iPad and Mac (sorry Windows users!). And it uses the cloud to sync across all your devices. Found a great recipe while browsing your RSS feeds? Load it up on Paprika and the next time you're at the grocery store with your iPhone, voila — look up what ingredients you need to buy! The app lets you download recipes directly into your own database, and many sites such as Epicurious, Martha Stewart and even Canadian Living are already enabled to download directly by the app. Many great food blogs are also optimized for Paprika. For sites that aren't enabled, you can simply build the recipe directly by copy/pasting the ingredients, directions, yield, etc.
The app allows you to add your own photos or use ones that you download with the recipes, and it allows you to fully customize your recipe categories. You can rank recipes (by star rating or by "favouriting" them) and add your own notes with them as well. It's also very easy to email a recipe as text with an image to a friend — and, very handy, the email will include the Paprika file as an attachment in case your friend also has Paprika, and wants to import the recipe into their database.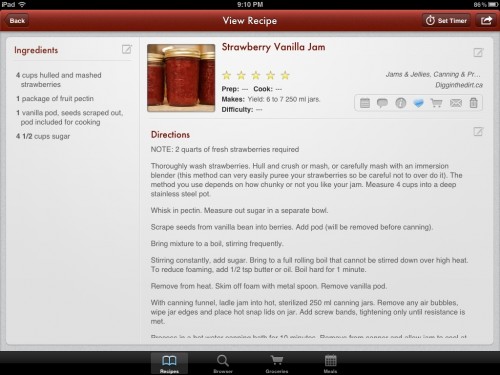 The app also includes features I don't use very often, such as meal planning and shopping list building, nutritional tracking, as well as a timer feature. You can also scale recipes (such as halving or doubling) and import from a select number of other types of recipe apps. Paprika will keep your device on while you're viewing a recipe, which is very handy when you need to keep messy hands off the device but still see the instructions for what you're doing.
A couple months ago I MacGyvered a Griffen CinemaSeat iPad holder I had for the car so that I could also use it on my fridge. I  glued 6 rare earth magnets to the back of it — now it's perfect for keeping my counter space free of expensive devices!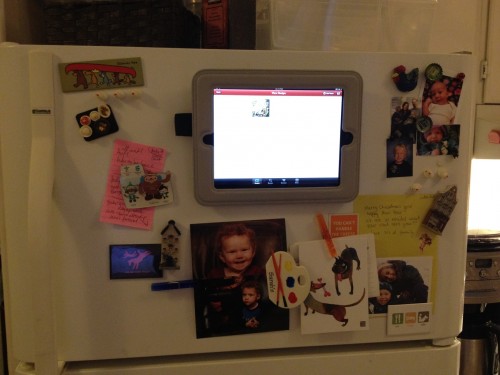 I was frustrated that I couldn't easily order an iPad holder that for my fridge in Canada (Belkin makes one but it wasn't available in Canada when I was shopping), and I wasn't convinced I could sew one that would leave me confident that the iPad wouldn't fall out (this one is made of synthetic leather and neoprene). This holder doesn't get used much unless I'm travelling, so adding the magnets makes it so much more functional. Now I use it all the time. I was using a cookbook stand for the iPad before, but that takes up a lot of space on my limited countertops, so this is a great space-saving solution. I highly recommend it!
By the way, Paprika costs about $20 CAD for the Mac; and $5 each for the iPhone and iPad. It's totally worth it; and I'm not alone in my opinion — it's got great ratings on the iTunes App store. Enjoy!