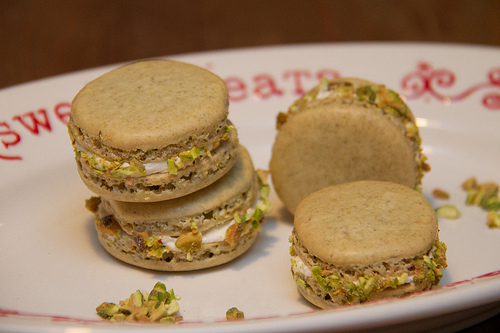 Last Christmas I came across Tartelette's Eggnog and Candy Cane French Macaron recipe, and thought I ought to try making this delicate, pretty cookie myself. While it the results were edible, they certainly were not the pretty meringue pastries I had been aiming for. I also made the embarrassing mistake of accidentally doubling the butter in the filling, which made them into ridiculously rich little parcels. My friends and family however, always indulgent, ate them, and said they were delicious, and calls rang out to try, try again.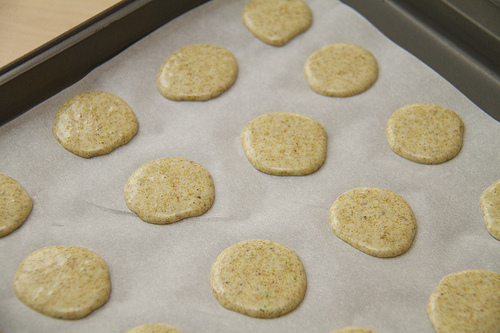 When the LCBO magazine Food & Drink published macaron recipes in their holiday edition, I thought perfect! They offered lots of tips and seemed to have simplified the steps. Their Gingerbread Macarons were the first ones I tried this season. The meringues did not bake up properly (failing to achieve the little 'foot' on the bottom of the meringue that makes macarons so distinctive), and what did result was sickeningly sweet, hurting your teeth to eat. They also encouraged the meringue batter to be piped into 2″ circles, which seemed way too big (keeping in mind that the meringues grow somewhat as they set) and their batter made far more cookies than the recipe suggested it should, which led me to believe they really didn't test their recipes very well before publishing.
After further reading, I discovered that David Lebovitz had discussed the challenges in making macarons, as well as the differing opinions on whether to let the meringues set before baking, what temperature to bake them at, etc. He himself had seven attempts before getting them right. I decided to give his chocolate macarons a shot, and followed his advice to bake at 350 F and to not let them set. Those ones crisped up nicely but again, no foot, and variances in textures and shape resulted between each cookie tray I baked. They tasted fabulous however, and his proportions of ingredients seemed correct to me, making for a not-too-sweet cookie. The prune-chocolate filling was especially surprising and tasty.
I decided to try my hand one more time on December 23, since I felt I was close, knowing that the meringues that had rested for about an hour seemed to turn out closer to what they should be than those that had not. I really wanted to try making pistachio flavoured ones, but again, the LCBO recipe was seriously out too lunch on proportions (3 cups of icing sugar to 1 cup of ground nuts, making a huge batch of batter). I decided to follow Lebovitz's proportions (1 cup of icing sugar to 1/2 cup of ground nuts, and 2 egg whites for the meringue). While the LCBO recipe called for half almonds and half pistachios, I had plenty of pistachios and so tried them with just the one kind of nuts.
I should also mention one of the key factors is not to over mix the batter. I think that in the attempts I made last Christmas, I folded the dry ingredients into the wet ones too vigorously. It's important not to lose the loft of the meringue in combining the dry ingredients. I also have a tendency to cram too many cookies onto my cookie sheets, so it takes some self-control for me when piping out the batter. The batter will settle and 'grow' on the parchment paper while it sets, and they will lose their good looks quickly if they start to run together.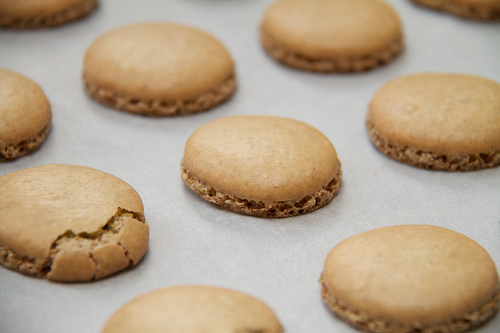 I let these babies rest for an hour, which I read allows the meringues to dry a bit on top. This seems to be a key factor in achieving the 'foot' at the base of the cookie during baking. If the tops are allowed to harden a bit in the open air before baking, they seem to remain stable in the oven and the bubbling action that raises the tops only cracks along the base of the cookie, where it should.
The photo above shows the first batch I baked, which I started them at 350 F, turning them down after about 5 minutes. Baking times for the cookies are generally published at around the 15-18 minute mark, but they really started to brown after about 10 minutes in the oven, so I pulled them. You can also see that a couple of the cookies cracked. A sure sign that the temperature was too high.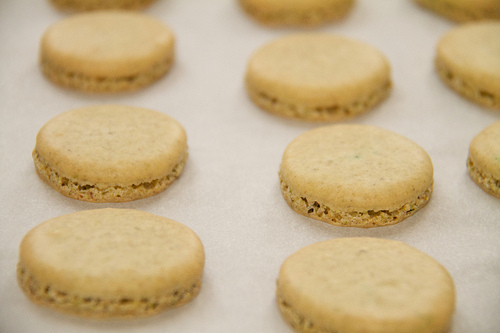 For the second tray (baking trays one at a time is important as these cookies won't tolerate uneven heat in the oven) I started them off at 300 F and after about 5 minutes brought them down to about 275 F. They still cooked up within about 10 minutes however, so I think that I could even get away with starting them at a lower temperature, perhaps 280 F and dropping to about 260 or 250 F for finishing. It also appears that my oven runs hot, as I have a secondary thermometer in the oven now, ever since I had problems with the gas ignitor failing mid-baking about a year or two ago. The trick for me for future batches is to bake them without losing their delicate colours, to prevent them from browning too quickly or at all.
All in all I am very happy with these cookies. They look like they should, and that has taken about 5 attempts over 12 months to get here! Now I'm super inspired to try other flavours, but of course, I have to consider that there's no one else at my house to eat them but me (Chris isn't a huge sweets fan). Oh well. His loss!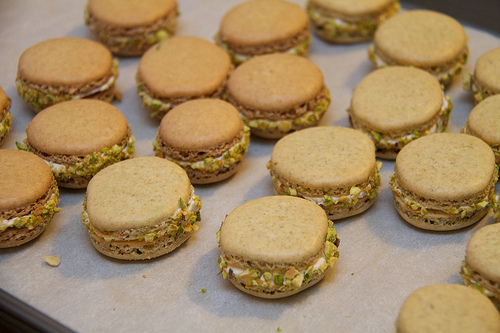 I think I'd like to try these again with half almonds and half pistachios, as I think their texture might be improved that way, so I'll post the recipe once I get it right. Perhaps this will be a whole new realm of flavour invention on my part. I'm very excited to finally have been able to pull together all the elements to make them turn out the way they should. I feel like the framework is mastered; now it's simply a matter of variation on that. Hooray!
Next baking item up for mastery: sourdough. For Christmas I got Peter Reinhart's Whole Grain Breads book, which includes directions on his sourdough method, so I'm inspired to go there again. Now that our house is well insulated and the temperatures won't fluctuate as dramatically throughout the day, I think I might better luck. I also intend to buy distilled water since Toronto tap water has small amounts of chlorine in it which I suspect may also have affected my last attempts at starter. Also, his book includes a recipe for injera, so perhaps some attempts at Ethiopian food are in order!