The ROM is fun!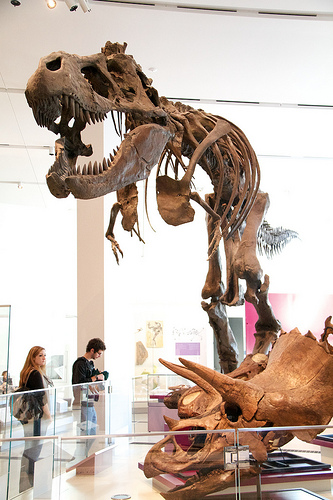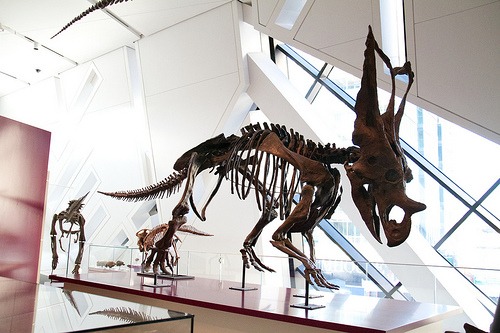 I'm a little ashamed to say that I had not been to the ROM since it was renovated until just a few weeks ago. I've been to the ROM several times, just not since they added the Michael Lee-Chin Crystal addition. The reason I was a little ashamed is that I'm a culture worker, and I work at another institution in the city, one with significant architecture — architecture considered to have been the instigator of what has been called the cultural renaissance of Toronto, of which the ROM addition is a part. It kind of feels like it was a cultural duty of mine to have gone and checked it out pronto, as soon as it opened, and that I shirked that duty. But whateves, I've finally gone, so I guess I can cross that off the list!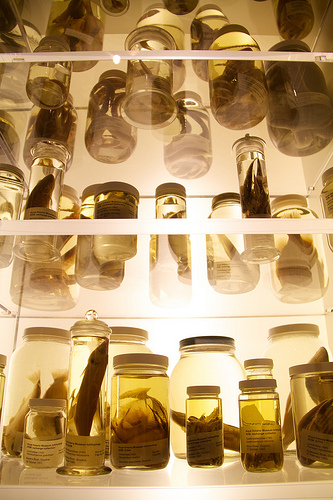 My parents came up for a weekend in November and we decided to dedicate a day to the ROM. My parents had hoped to come by train, but VIA Rail maintains a terribly inconvenient train schedule for the Southwestern Ontario corridor, and as a result the train just wasn't a viable option (not to mention ridiculously pricey). My dad used to come to Toronto as a kid by train, and I think he wanted to do it again for nostalgic reasons. Unfortunately he was sorely disappointed by VIA, but our trip to the ROM was super fun.
We went primarily to check out the Terracotta Warriors exhibit, which, unfortunately, was not allowed to be photographed. So I don't have any photos of that magnificent show (you can however view some photos on the ROM website), but if it interests you, I highly recommend you check it out before it closes in January. The exhibit is rich with information that really helped me better understand China's early history, and while I was aware of the terracotta warrior discovery (an entire army — 8,000 strong — of larger-than-life sized terracotta figures buried in an emperor's tomb), I wasn't aware of the significance of Warrior Emperor Ying Zheng, China's First Emperor and the first Emperor of the Qin dynasty — he was the first to unite the warring states and establish the country of China as a whole. The exhibit is presented in three languages, English, French and Chinese, which made for a lot of text to weed through, but overall it was a thoughtfully created exhibit and a rare chance to see a selection of the figures up close. They are huge, the technique for building them is impressive given that this was around 200 BC.
After the warriors we had a lovely lunch at C5, which was quite chi-chi for my parents, and tasty. Then we explored the other galleries and had a blast, being at liberty to photograph at will. We then took the folks out for Ethiopian food at our favourite little spot on the Danforth called Rendez-Vous — quite outside of my parents' comfort zone, but I think they enjoyed it. I mean really, what's not to love about Ethiopian food?!