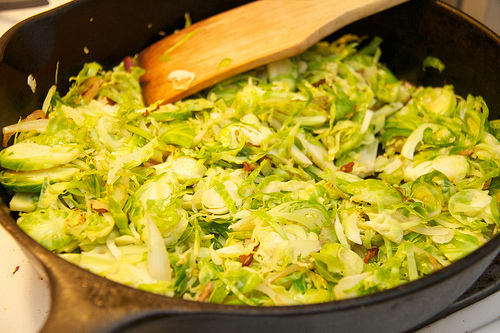 Well, there is no mistaking it. There is definitely a chill in the air and the weather has turned positively frosty. I'm on the hunt for a better coat. Every third farm you drive by has pumpkins for sale. It's a week until November.
That means that brussels sprouts are in season in Ontario! A lot of people hate brussels sprouts with vehement passion, and I didn't have much respect for them either until several years ago when I had them at a favourite Italian restaurant, done in a way I had never imagined for what I had considered such a vile vegetable.
This is my take on that dish. I have no idea what it's called in Italian but basically you slice the brussels sprouts up, fry them with some sauteed bacon and onions, and toss with some strong cheese before serving. These retain their texture and the flavours come together to form an interesting, sophisticated dish. I usually use extra old cheddar for the added punch. And of course bacon makes everything awesome. I think the restaurant used prosciutto but I don't always have that around.These are not your over-cooked, boiled-to-death brussels sprouts.
Trust me, this will convert even the most committed of brussels sprout haters.
Brussels Sprouts with Bacon and Cheese

About 2-3 lbs of fresh brussels sprouts
1/2 a medium sized onion, chopped
3 slices of bacon, diced
1/2 cup of shredded, strong-flavoured cheese, such as extra old cheddar
Wash and dry the sprouts. Slice each sprout thinly along the vertical several times so that the result looks something like shredded cabbage, about 1/8 inch thick. Set aside.
Cook the bacon on a medium skillet. Drain excess oil, if there is any, and then add the onions. Fry until soft and slightly caramelized.
Add the brussels sprouts and saute over medium heat until the colour deepens and the sprouts wilt slightly, about 5 minutes.
Remove from heat, add the cheese, toss and season if needed (the cheese will add a certain amount of salt to the dish, in addition to the bacon, so no salt may be needed). Serve!