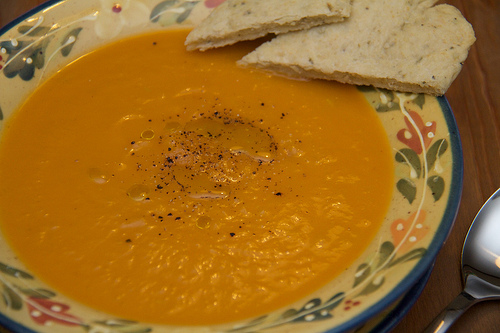 I've had this lovely squash sitting in my fruit bowl on my counter for at least a month (I love how long squashes keep!) and I finally got around to doing something with it this week. I wanted to share this recipe because it's so ridiculously simple and luxurious. And it's been ages since I made it!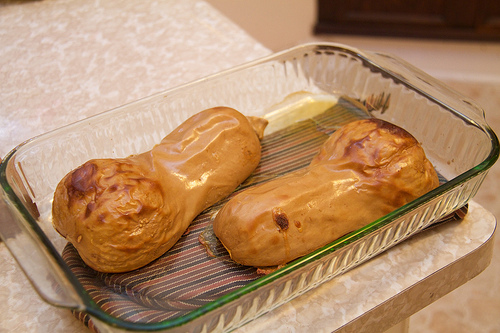 Roasted Butternut Squash Soup
1 medium to large butternut squash
1 medium onion, diced
2 stalks of celery, chopped
olive oil for sautéing
1/2 tsp ground cumin
1 1/2 to 2 cups of chicken or vegetable stock
salt and pepper to taste
Preheat oven to 400°F. With a sharp knife, cut the squash in half. Scoop out the seeds and stringy bits. Place cut side down in a baking dish and place uncovered in oven. Roast until squash is soft, testing with a toothpick through the skin in the thickest part (the neck).
While the squash is roasting, prepare the onion and celery. In a medium saucepan, heat the olive oil and sauté the vegetables until soft, about 5 minutes. Add the cumin and cook for another 2 minutes.
If the squash is ready, remove it from the oven and scoop out the flesh into the saucepan. If not, remove the vegetables from the heat and set aside until the squash is ready. After combining the squash and vegetables, add the stock. Using an immersion blender, puree the soup until the texture is creamy and smooth. This can also be done in a blender, but allow the ingredients to cool beforehand. Reheat the soup after blending.
Season with salt and pepper, to taste. Eat!
Serves four.