I know, I know, it's only the first week of January; we've hardly even scratched the surface of winter yet, but it certainly feels like it's been going on a while. We spent New Year's Eve in Ottawa with our friends Bruce and Youngja, where it snowed constantly. It was lovely, and beautifully seasonal, but boy it sure makes me appreciate our (usually) mildish winters in Toronto (excluding of course the winters of 2007-08 and 2008-09; the jury is still out on this one).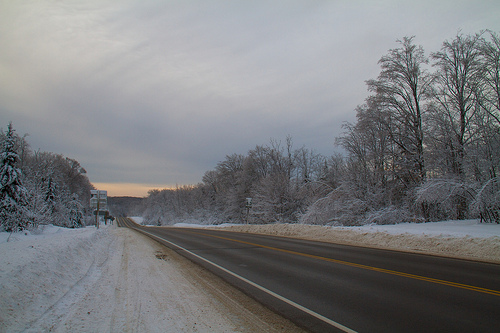 We took the scenic route on our way to Ottawa and we weren't disappointed. It was so snowy the farther and farther north we got, we just had to stop and snap a few shots (and it was Chris's turn to drive anyway).
We spent New Year's Eve by having an incredible dinner at the Black Cat Bistro where I indulged in a foie gras appetizer served on half of a salt-roasted pear with a fig chutney, quince jam and a mustard jelly. The flavours were unbelievable and so surprizingly delicious. Chris had a bison carpaccio served with slices of extra old cheddar that was also divine. My main was Lunenburg scallops perfectly seared with heirloom beets and carrots, in a delicate creamy vanilla salt sauce and garnished with orange zest. Chris had a pepper-crusted rare tuna steak served over spaghetti squash with shiitake mushrooms.  For dessert, I had their sticky date bundt cake served with dulce de leche, crème fraiche and a slice of grapefruit, but I think Chris's apple crumble infused with figs and rosemary, served with a dollop of vanilla sorbet was the Black Cat's meow. Hungry yet?
After dinner we headed out to the Elmdale House Tavern to ring in the new year. That was an interesting spot. Definitely a local's joint but the place oozed a gritty but endearing character. Oh and they had Beau's Lug Tread Lager on tap so you can't complain about that.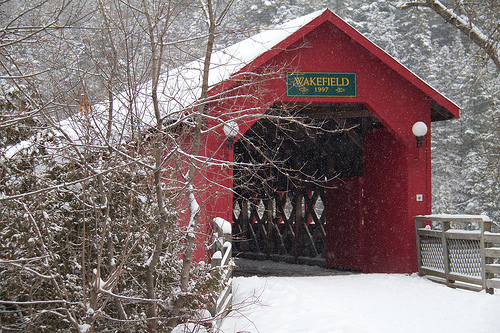 On New Year's Day we decided to take a bit of a tour of the countryside. Most things in the city were closed. We headed across the river to Gatineau and drove out to Wakefield, a little Quebec cottage community with a beautiful, pedestrian only covered bridge. Nothing was open there either, but we just trudged around in the snow, enjoying the scenery.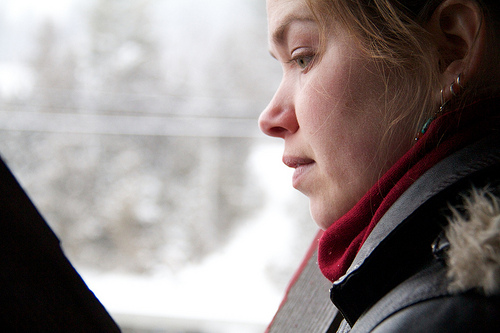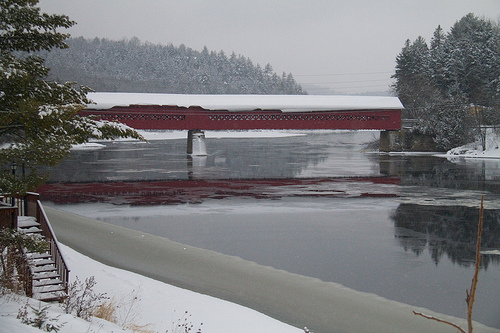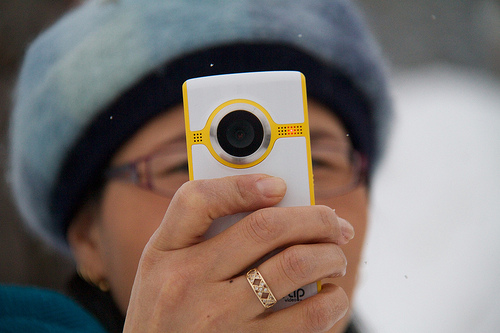 Now we're back to the usual schedule of life, work and winter. I've been feeling a bit blue the last few days. I'm chalking it up to the dark days and the frigid temps. Oh and the fact that I caught a cold on New Year's Day which seems to have hunkered down for the count in my sinuses.
As far as any resolutions go, I guess I've only really fallen back to my usual list: eat healthier (ie: try once again, likely without success, to ignore my sweet tooth); exercise more/get back to the gym; and generally try to be the best "me" I can be. My wish for 2010 is really that it be a year full of joy and happiness. 2009 was a bit of a rough go at times, so it's my hope that 2010 will bring more positivity and optimism. According to my NOW magazine horoscope it will:
Virgo Aug 23 | Sep 22 Scientific studies have proved what we all knew already: A person who's only mildly interesting to you will probably become more attractive if you drink a couple of pints of beer. What if I told you, Virgo, that in 2010 you could regularly create the same effect without drinking the beer? I have it on good astrological authority that this will be the case. Due to fundamental shifts in your relationship with the life force, and having nothing to do with how much alcohol you consume, the entire world will often be at least 25 per cent more attractive to you than it ever was before.