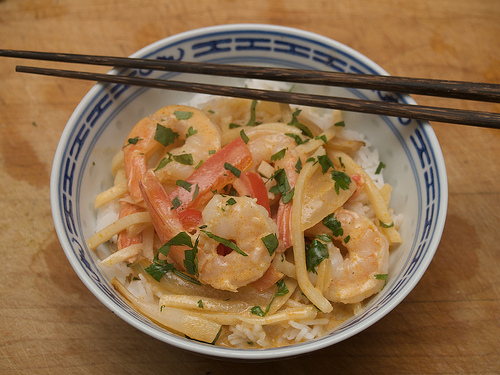 This is one of my old standby dishes. It's always so satisfying and makes for great leftovers. You can also make it with chicken, or even beef strips. Served up on Basmati rice, it's a nice quick and easy meal.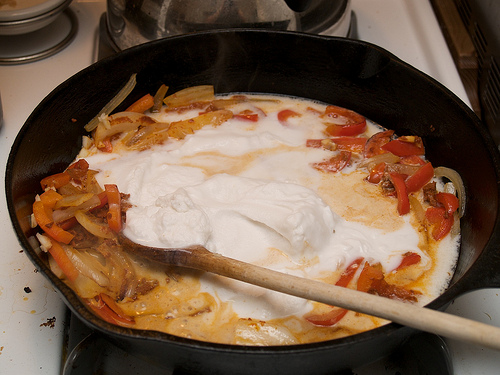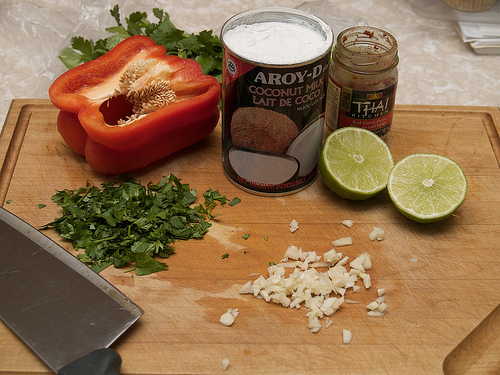 Thai Red Curry Shrimp (or Chicken)
1 tbsp of high temperature frying oil, such as grape seed oil (olive will do in a pinch)
1 small onion, sliced
1/2 a red pepper, julienned
1 – 3 cloves of garlic, minced
1 can of bamboo shoots
2 to 3 heaping teaspoons of Thai red curry paste
1 can of coconut milk (or for a thicker sauce, use coconut paste with some water or stock)
1 cup of cooked shrimp or chicken
1/3 cup of chopped cilantro
juice of one lime
salt, to taste
cooked Basmati rice for serving
In a hot skillet, add the oil, the onions and red pepper. Sauté until vegetables are cooked. Lower heat and add garlic, cook for about a minute.
Add the curry paste, coconut milk and shrimp and stir to combine. Cook gently on low heat for about 3 minutes, or until heated through. Remove from heat.
Season with cilantro, lime juice and salt to taste. Serve on cooked rice and enjoy!