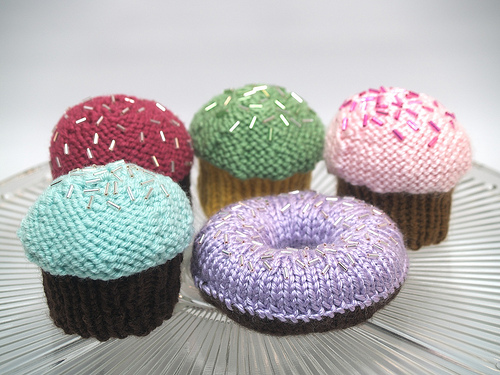 One of the small knitting projects I've been doing periodically over the last few weeks are knitted cupcakes. I originally started making them one night before going to visit an out of town friend, hoping to give them to her daughter, but I only got one done, and it seemed weird to gift just one. I had hoped to do three, but didn't get that far. Now I'm just doing them for fun. They're super cute, and I have lots of these "sprinkle" beads, in a wide variety of colours, to use up, and this is the perfect scrap yarn project.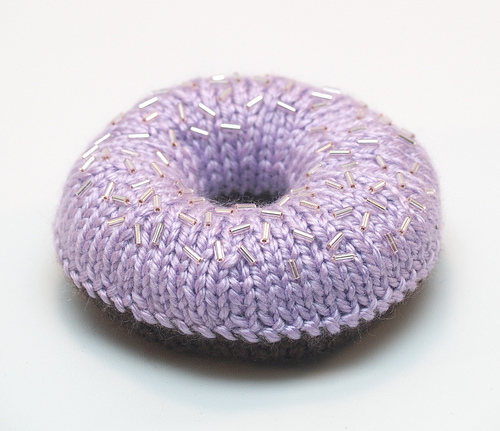 Then I thought, hey, why not donuts? And so now I have one of those, too. I was showing these to my coworker and he suggested I do a Simpson's style donut, so I think that's next.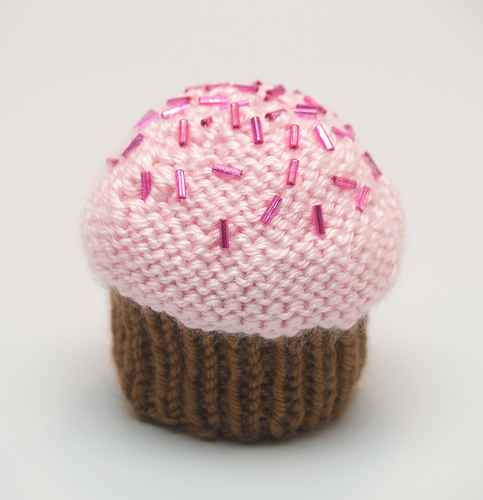 The cupcakes are from a free pattern by Eva McDonald. I made some modifications though. In the first (knitted) round of frosting colour I make a stitch every three stitches so that there is a bit more of a muffin-top to the cupcake. Then I do an extra round of decreasing later on. I also have yet to make one of hers that includes the cherry. I have also filled the base of mine with a bit of cheesecloth bundle filled with lentils, instead of the plastic bottle base, as she describes.
The donut is a free pattern by Dorien. Love this pattern – it turned out great, and it would also work very well as baby toys, if you left off the beading.