As the high from achieving sourdough starter success quickly deflates like the airless loaf of dough I'm currently baking in hopes that something miraculous will happen in the oven, I figure I might as well celebrate success of a different kind.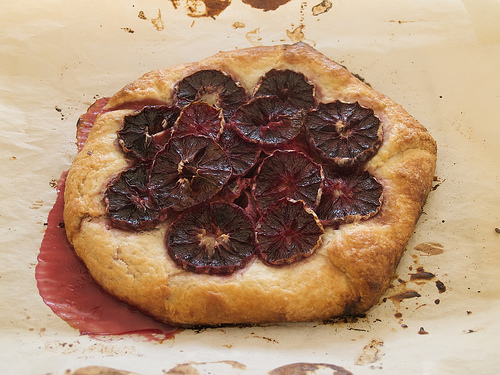 I believe I have mastered my fear of pie crusts! I just had to try this tart when I first saw it on Smitten Kitchen's blog. I've always loved the blood orange's unusual deep crimson flesh, and this tart just seemed irresistible. However. I'm no master of sectioning oranges. That was a tedious and frustrating task, let me tell you. The tart had a bit more orange membranes than I think it really should have, which on the pieces dressing the top cause a bit of bitterness. All the same, overall it tastes divine, almost like a berry tart. And the crust, as Chris described it, was the best part.
This recipe called for freezing the tart before cooking it, which seemed odd at first but I realized it's a great idea for making smaller personal tarts that I could bake whenever I want one. Large tarts are lovely but I often end up eating them all myself since Chris doesn't really have a taste for sweets. It would be so handy to make smaller, personalized tarts I could bake whenever I want one fresh! I sense a new vice developing.