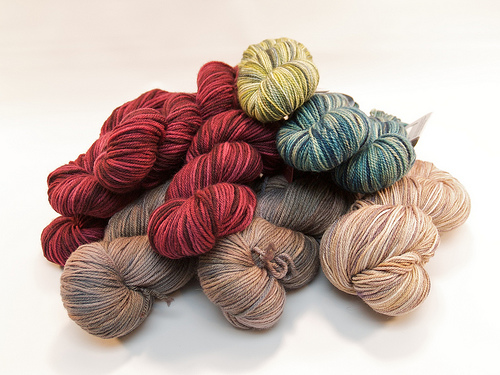 As I mentioned in my overview of my trip to Portland and Seattle, I made off with some serious deals at the LYS's. Considering we spent only three days in each city, and only a couple hours in Cannon Beach in between, I think I did rather well. My Visa statement may claim otherwise.
Pictured clockwise from the left are: Colinette Cadenza in 'Velvet Plum' (30% off at Coastal Yarns in Cannon Beach!), Curious Creek Fibers Wasonga in 'Birches in Norway' and 'Mysterious Night', from Close Knit in Portland's Alberta Street strip, Pagewood Farm Yukon in 'Mocha' and Dream in Color Classy in 'Cloud Jungle', both for 30% off at Seattle's So Much Yarn, from their big inventory clear out sale which Chris just so happened to stumble upon. Good boy!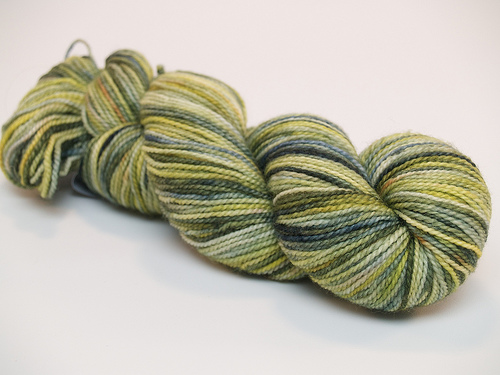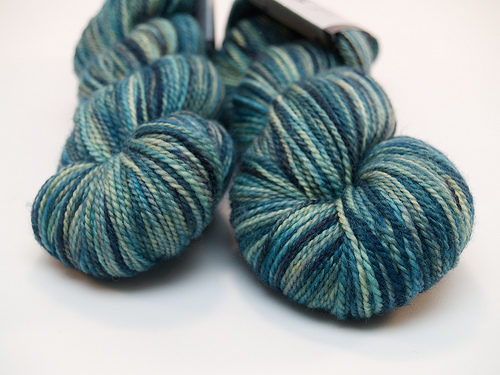 I'm especially enamoured with the Wasonga – it is incredibly soft and luxurious, and I just could not choose between these colourways. There were other amazing colourways too, and since this yarn is hand created by San Diego fibre artist Kristine Brooks, it's hard to say whether I'd ever come across it again. Needless to say I will have to think of something extra special for these yummy skeins to 'become'.
And you can bet the farm I did NOT pack these lovelies in my checked luggage, thank you very much Air Canada.