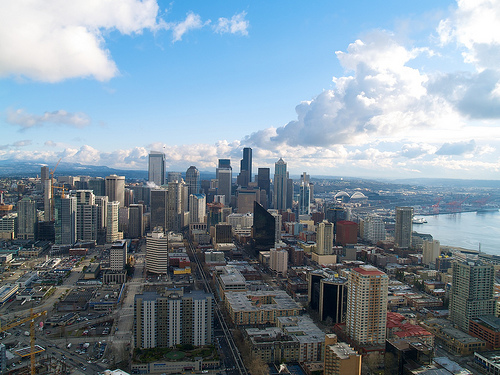 Favourites:
Pike Place Market: started in 1907, it's considered one of the oldest, continuous running farmer's markets in North America. It's about 9 acres and I know we only managed to scratch the surface. It was only a hop skip and a jump (uphill) from our hotel on the waterfront, so we went back often, to grab coffee (yes, including at the original Starbucks – so touristy but so fun) and a pastry, and to watch them throw the fish. I bought some glass art and some jewellery from local artisans, and took a ton of photos, especially at night. And it's open every day!
Hatch Show Print exhibition at the Experience Music Project, designed by Frank Gehry: I wasn't really floored by the EMP overall, but I adored the American Letterpress: The Art of Hatch Show Print exhibition, created by the Smithsonian Institution's Traveling Exhibition Service. The exhibition showcased the incredible hand-created letterpress posters by Hatch Show Print, based in Nashville, one of the oldest printing shops still operating in the US. They had many of the original woodcuts on display and many incredible restrikes and original posters from some of the most influential musicians in American music history, alongside some fascinating country music memorabilia. We bought a print at the EMP gift shop, but we were very disappointed that we couldn't purchase a print of the exhibition poster (pictured below). Seems like a wasted opportunity for them. You can however order many amazing restrikes and monoprints from the Hatch Show Print website.
The incredible seafood: everywhere has Dungeness Crab on the menu, in everything from Eggs Benedict to Mac & Cheese. And I've never had better chowder, especially the clam chowder at Pike Place Chowder in the market. For a myriad of fresh oysters, salmon and other kinds of fresh local fish, I highly recommend Elliot's Oyster House, on Pier 56 (which also, I might add, has the most impressive bar EVAR).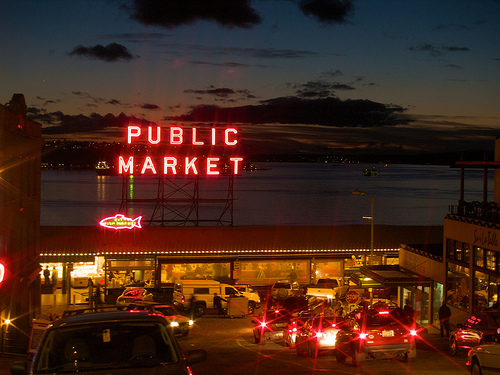 The Seattle Art Museum (SAM) exhibitions S'abadeb—The Gifts: Pacific Coast Salish Art and Artists and Edward Hopper's Women. I was especially astounded at the Salish artists' weaving skills using mountain goat wool, sometimes combining it with canine wool. The exhibit was packed with beautiful historical and contemporary works. I left the exhibit feeling a deep sense of awe, and that I'd received a rich experience of the aboriginal people of the Pacific coast. The exhibit also made me realize that all those gorgeous knitted Cowichan Sweaters the girls were wearing in the YVR and YYZ airports are contemporary versions of the Salish weaving tradition, although I'm sure because I saw at least 5 different designs over the 24 hours or so I spent between airports and aircraft, some clothing chain has commercialized them and they're probably being produced in a factory somewhere, which is kind of sad.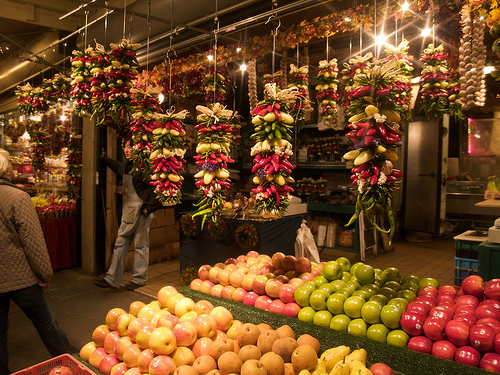 The Space Needle: okay so it's totally touristy but Chris and I had lunch at the Space Needle on our first full day there, in the revolving restaurant. I don't care what anyone thinks, it was a great way to see the cityscape (though not as impressive as the view from our very own CN Tower). Unfortunately the Olympic and Cascade Mountains, and Mount Rainier to the south, were playing hide and seek with the clouds. We did get to see the Cascades up close on the drive back to Vancouver, and Mount Rainier peeked out the morning we left Seattle, which made me happy.
More great beer: I was feeling a bit "beered out" by now after serious indulgences in Portland, but Seattle has it's fair share of excellent brews. We had a couple pints at the Pike Brewing Company, in their brew pub in the market, as well as at Hale's Ales, located between the Fremont and Ballard districts of Seattle.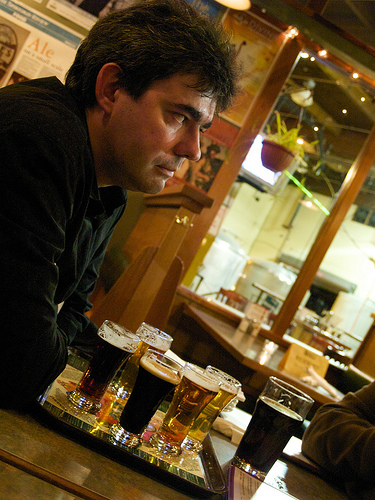 The incredibly playful exterior of the Experience Music Project: I took an obscene amount of photos of the fantastic iridescent titanium cladding of the Experience Music Project, like thousands of tourists before me, I'm sure. But how to resist??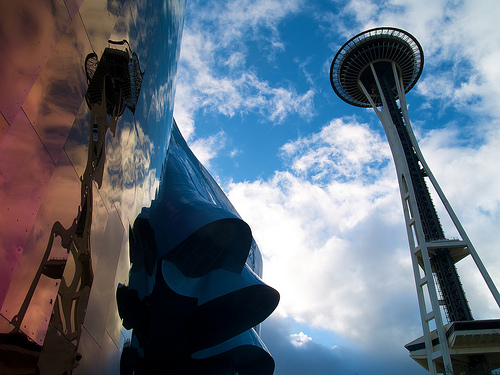 So Much Yarn's inventory clear out sale: kudos to my doting boyfriend who keenly spotted a yarn store (with a SALE!) on his first night in town while he and the boys were out drinking late night. We stopped in on Saturday morning to discover they were offering 30% off all yarn until 11 a.m.! I topped up my stash with some Dream in Color Classy in "Cloud Jungle" and some Pagewood Farm Yukon sock yarn in "Mocha". LOVE!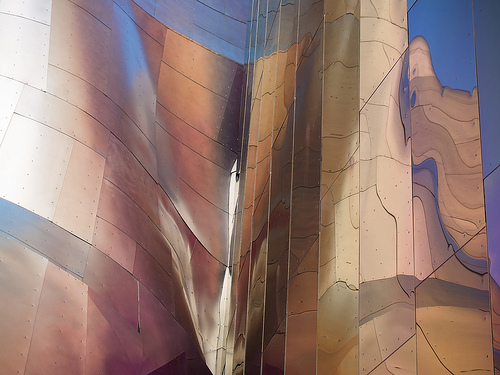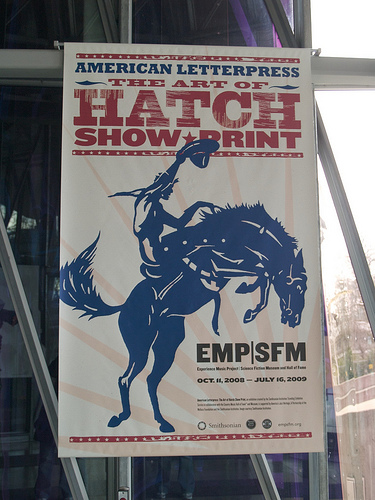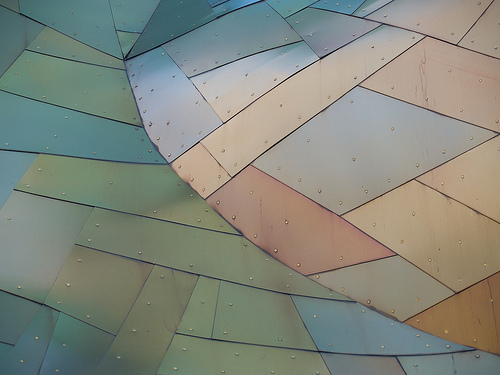 Jimi Hendrix's diary at the EMP: as part of their shrine to Hendrix the EMP has his diary on display. And it just so happens to be opened to a page where he writes about arriving in Ottawa (shout out to Bruce and Youngja!) and meeting Joni Mitchell. How cool is that?  For a full size version so you can (sort of) read the text, go here (apologies for the graininess but this was covert photography). Oh, and apparently the people of Ottawa are strange.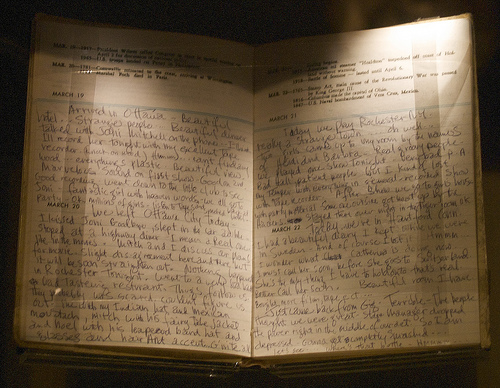 Not-so-Favourite:
The Seattle Art Museum's security guards: Chris tried to take a photo using his iPhone of a didactic sign in one of the galleries (not of the art work itself) and one of the security guards stopped him. So instead he proceeded to try to type the artist's name into his phone, so he could look it up later, and they refused to let him do even that. Talk about overkill.
The return of sales tax: I know, I'm used to it here at home, but after none of it in Oregon, it was painful all the same.
The hills: I am SO out of shape. Back to the gym with me.
The train tracks and freeway at the waterfront: I think Seattle has the same problem Toronto does with its own waterfront. There is a freeway running along it and train tracks (it is a very active port, after all). The combination of the two makes for a rather noisy hotel and waterfront experience. The difference is that Seattle has taken on the challenge and at least tried to make it work. You can walk along the waterfront and take in the piers, and businesses are thriving along this stretch of the city. Many of the piers, which probably used to be industrial, are now restaurants, hotels, bars, museums and other attractions. The big container ships and ferries continue to function amongst them.
For all my Seattle photos, as well as images from Portland and Cannon Beach on the Oregon coast, visit my set on Flickr.