It's Boxing Day but I still have a couple cookie recipes I wanted to post before Christmas, before I was railroaded by situations with the pets and ridiculous car troubles (we've used CAA's towing services three times in a week, including on Christmas Eve and Christmas Day – yay). So bear with me while I get these out of my system.
These cookies were posted on the Toronto Star's website as part of their cookie-a-day advent calendar, which I have to credit my buddy Alice for pointing me towards. I made the ever-so-decadent Chocolate Chile ice cream this summer so she knew I'd fall totally in love with this recipe. Now it's unclear if they're supposed to be called "Aztec cookies" or "Montezuma's Chocolate Treasures" or "Mexican Chocolate Chile Cookies", but I can tell you that a lot of people kind of turned their nose up to hear them referred to as "chocolate chile". Apparently not enough Canadian's have heard of the marriage between chocolate and chile, and to them, the word "chile" conjures scary, mouth-scarring, burning heat.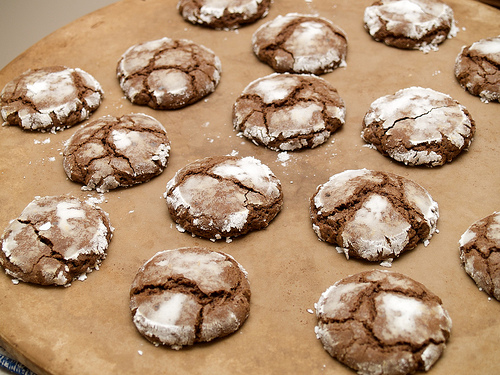 So call them what you will but be warned that people will be skeptical about trying these if you tell them first that there's chiles in them. Us discerning cooks know that not all chiles are created equal. To learn more, I refer you to the Scoville Scale for measuring the potency of various types of chiles. This recipe uses ancho chile powder, which is the dried version of the poblano chile, and one of the lowest on the Scoville Scale.  I keep whole, dried ancho chiles on hand, but McCormick's now bottles a variety of chile powders, including ancho chile powder.
I was a bit more generous in my cookies with the chile powder than the recipe calls for, and I made a double batch because they looked so damn good. I also didn't sprinkle on even more icing sugar after baking, as the recipe states, because I loved the crackle texture and didn't want to cover that up. Finally, the recipe also calls for cayenne, which I included but some folks still commented on heat in the cookie (I don't taste it, but then again I like the heat), so you may choose to leave it out (your loss!).
Mexican Chocolate Chile Cookies
Adapted from the recipe by Eric Vellend, posted on the Toronto Star website
6 oz (squares) of unsweetened chocolate
2 cups of all-purpose flour
2 tsp of baking powder
1 tsp of cinnamon
2 tsp of ancho chili powder – about 2 whole dried, cored, seeded and ground in a spice or coffee grinder
1/4 tsp of cayenne pepper
1/4 tsp of ground cloves
1/2 tsp of salt
1/2 cup of unsalted butter, softened
1 1/2 cup of sugar
2 tsp of vanilla extract, preferably Mexican
3 large eggs, at room temperature
icing sugar for rolling
Melt chocolate, stirring until smooth (using a double boiler, or like me, a Pyrex glass measuring cup in a pot of water, heated slowly).
In a separate, small bowl, combine flour, baking powder, spices and salt. Set aside.
In a larger bowl, cream butter and sugar until fluffy. Add vanilla and eggs, one at a time, until combined. Slowly add melted chocolate until combined. Slowly add dry ingredients until blended.
Transfer dough to plate and spread out evenly. Cover and chill for an hour or so.
Preheat oven to 350 degrees F. Form heaped tablespoons of dough into balls and roll in icing sugar to coat. Place about 2 inches apart on parchment-lined baking sheets (I used my baking stones and they stuck a bit). Press down with the bottom of a glass.
Bake through, about 16 minutes. Allow to cool. If you prefer, dust with more icing sugar (I didn't). Store in an airtight container.
Yield: About 50 cookies.