I made these cookies without knowing beforehand that they're actually a traditional German cookie called Kipferl. I found this out while I was looking for a recipe for Lebkuchen, a German Christmas cookie that I love but have never made from scratch before. Chris's family has German/Lithuanian heritage so I've become more interested lately in German foods.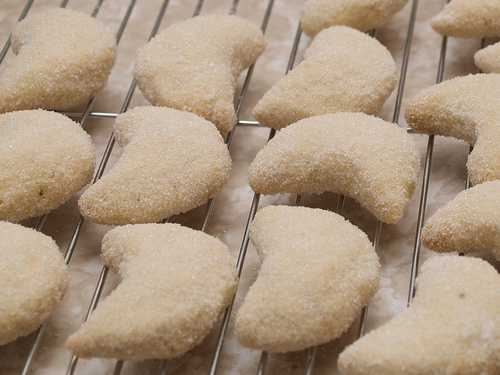 For Thanksgiving I made a homemade vanilla ice cream with real vanilla bean, and I've since been using the leftover bean pod to make vanilla sugar. If you've never done this, let me tell you there is nothing so magical as sugar that's been infused with real vanilla. And you can just keep replenishing the sugar in the jar and the bean pods will keep perfuming it on and on. Vanilla bean is quite pricey but you can get so much life out of it, its really worth it.
Vanilla Almond Crescents (a.k.a. Kipferl, a German holiday cookie)
based on the recipe from Canadian Living magazine, December 2008
2 cups all-purpose flour
1 cup ground almonds
1/2 tsp salt
1 cup unsalted butter, cubed
1 tsp vanilla extract
1/2 cup vanilla-infused granulated sugar
Using a food processor, pulse together flour, almonds, 1/4 cup of vanilla-infused sugar, and the salt. Add butter and vanilla extract and pulse just until the mixture comes together like bread crumbs, about 30 seconds. Turn out and press dough into a ball. Refrigerate for about 1 hour.
Preheat oven to 350 degrees F. Shape 1 tbsp worth of dough into crescent shape, tapering ends slightly.
Place on parchment-lined baking sheets and bake about 12 to 15 minutes. Allow to cool on racks for about 10 minutes.
Place remaining vanilla sugar in shallow dish. Turn crescents in the sugar to coat. Allow to cool completely on racks.
Makes about 50 cookies.