Our friend Cass says that someday when he buys a house, he wants to have a pumpkin patch. No amount of cajoling from Chris and I can convince him that you kinda need a field to have a pumpkin patch, that every reasonable gardener knows that you don't just get "a" pumpkin from a patch. So in jest, I knitted him his own miniature patch.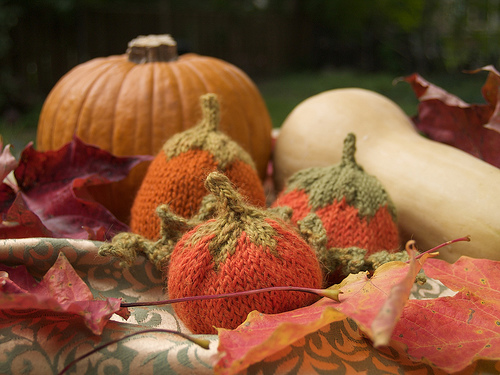 With Blue Sky Alpacas sport weight yarn (soooo soft!) I made these in various sizes, starting by working in the flat and adding increases every other stitch or every two stitches as needed to try to make different shapes for each of the pumpkins, always trying to end with a division of 8 stitches (the leaves are started by adding a green stitch every eighth stitch). The pumpkins are started flat and then when they reach the widest point, joined and worked with dpns in the round. The smallest pumpkin is 48 stitches at his widest point, the biggest is 56 stitches wide.
The leaves I did like Ann Norling's Kids Fruit Cap, which has you doing the decreases fairly late, because its a hat. For a different effect with each pumpkin I just decreased every stitch early, or later, or every other stitch, to add more or less green.
Finishing: just sew up the side until there is a coin-sized hole for adding a bit of stuffing for the top. The bottom I filled with green lentils to give them weight, which helps them sit nicely.
Finally, the corkscrew vine piece was done by casting on a large number of stitches (I didn't count). Row 1: knit; Row 2: increase 3 stitches for every stitch (knit into front, then back, then front again); Row 3: bind off.